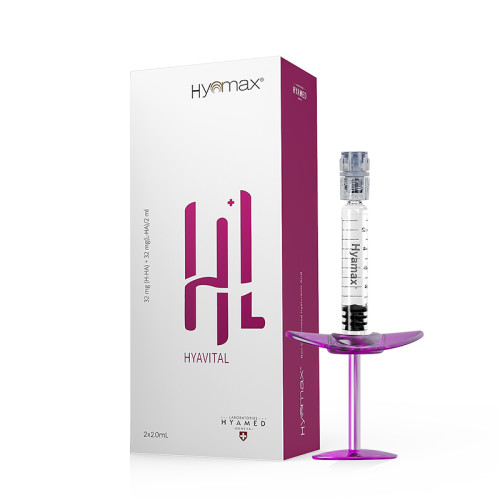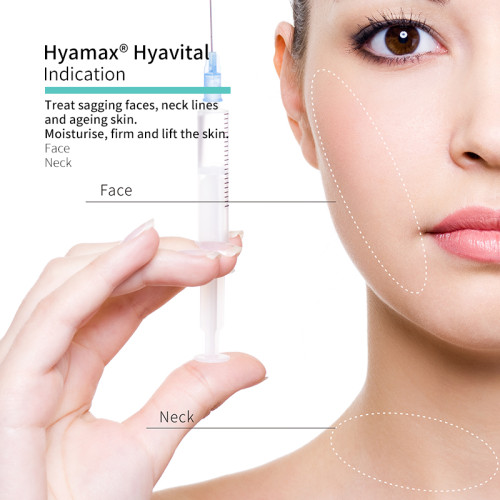 Hyamax® Hyavital Hyaluronic Acid Face Fillers, Dermal Fillers Brands, Support Wholesale & Custom
Item specifics
Concentration

32mg/ml
Specification

1 x 2.0ml
Versions

Regular/ Lidocaine
Description
Hyamax® Hyavital Dermal Fillers
Application:
Hyamax® Hyavital face filler moisturise and lift the skin, treating skin ageing, sagging and loosing.
Description:
Skin ageing in the human body is mainly characterised by wrinkles, roughness and loss of elasticity due to the loss of hyaluronic acid and collagen in the dermal layer of the skin. For the skin to be hydrated, smooth, elastic and toned, the structural damage to the skin needs to be treated first.
Hyamax® Hyavital dermal fillers are used to treat facial ageing, sagging, laxity and neck lines by injecting hyaluronic acid and stimulating collagen regeneration to hydrate and lift the skin.
Pure Dermal Fillers features
Name

Attribute

Non-Crosslinked Hyaluronic Acid Ingectable Filler

Needle Size


30Gx1 & 27Gx1

Concentration

32mg / ml

Versions

Regular/ Lidocaine

Face / Neck

Effect Duration

6 Months

Treatment

3 Treatment sessions at 30-day interval followed by treatment every 2 months.


Storage Condition

·For maximum stability and shelf life, the temperature range for storage is 2°C to 25°C, optimally 10°C, and avoid freezing and direct sunlight.

·Expiry date is indicated on each individual package.

Indications for use

It's used for hydrating,tighting and lifting the skin like the facial sagging,neck lines,skin aging.
Hyaluronic Acid Filler Important Information
·lnjection into eye Extra Deep (eye circle,eyelids)
·lnjection into the blood vessels
·Patients suffering from untreated epilepsy
·Pregnant or breastfeeding women
·lndividuals under the age of 18
·lndividuals
·prone to hypertrophic scarring
·Patients with known hypersensitivity to HA
·Patients suffering from porphyria
·lnjection into inflamed and/or infected areas such as acne,herpes,etc.
·Simultaneous laser treatment,intense
·pulsed light,chemical peeling or dermabrasion
·Presence of considerable inflammatory response to surface peel
·Coagulation defects or under anti-coagulation therapy
·Overcorrection
·lndividuals with unachievable expectations
PRECAUTIONS
·Hyamax® Hyavital should never be utilized for breast enlargement or for implantatio into bone,tendon,ligament or muscle.
·Due to the lack of sufficient clinical date to profile the tolerance of Hyamax®® Extra Deep in patients with a history of past or current auto-immune disease,multiple allergies or anaphylactic shock.Physicians are strongly advised to administer this product with discretion on case-by-case basis,carefully considering the nature of the disease.
·Patients with a high risk of hematomas.
·Patients on anti-coagulant medications.
·It is possible that needle punctures could trigger break out of cold sores in patients with previous episodes of facial cold sores.
·lf you are using aspirin,non-steroidal anti-inflammatory medications.St.John Wort or high doses of Vitamin E supplements prior to treatment or any similar medications be aware that these may increase bruising and bleeding at the injection site.
·Using this product in patients suffering from acute rheumatoid arthritis with cardiac
complication and in patients with a history of recurring streptococcal sore throats is inadvisable.
·lt is strongly recommended not to use any make-up or touch the treated area within 12 hours after injection.
·Avoid any extended exposure to sunlight,UV radiation as well as extreme heat or cold until the initial swelling and redness have subsided.
·Hyamax® Hyavital should never be injected into an area where there is
permanent filler or implant. Presently,there are no clinical data to characterize the efficacy and tolerance of this product when injected into the area already injected with another filling product.
SIDE EFFECTS
There are potential immediate or delayed side effects associated with the implantation of this product.Medical practitioners must inform the clients of these side effects which include but are not limited to:
·Inflammatory reactions(redness,swelling,erythema,etc)accompanied by itching, pain,pressure, discoloration or tenderness at the injection site
·Hematomas
·lnduration(hardening of the skin)or formation of nodules at the site of injection.
·Staining or discoloration of the injection site.
·Poor filling results due to improper injection technique.
·Delayed or immediate hypersensitivity,granuloma, abscess formation and glabellar necrosis have been reported with injections of cross-linked hyaluronic acid products.
·lnflammatory reactions or any other side effects experienced by patients for more than a week must receive immediate medical attention.
·Any other side effects associated with the injection of this dermal filler which is not listed above should be brought to the attention of the distributor and/or the manufacturer.Reactions thought to be of hypersensitivity in nature have been reported in Iess than one in every 1500 treatments.These include prolonged erythema,swelling and induration at the injection site.
These reactions usually happen immediately or 2-4 weeks after injection,and are usually mild and moderate with averate duration of 2 weeks.Usually this reaction is self-limiting and disappears with time.lt's strongly suggested that patients with such reactions contact their physicians immediately.Treatment should be avoided for patients with multiple allergic reactions.
INCOMPATIBILITIES
Hyaluronic acid products have a known incompatibility with Quaternary ammonium salts such as Benzalkonium Chloride.please make are that Hyamax® Hyavital never come into contact with this substance or medical instrumentation that has come into contact withthis substance.
Dermal Fillers And Mesotherapy Order Notes
Hyamed is your ideal dermal filler supplier with a complete manufacturing line of hyaluronic acid fillers.
We support wholesale and custome with no minimum order quantity.
1. Dermal Fillers company with an exclusive R&D laboratory in Switzerland and collaborates with numerous laboratories and universities.
2. A 15,596 square meter dermal filler factory.
3. With Hyamax® patented hyaluronic acid cross-linking technology, we can produce a full range of hyaluronic acid fillers. We can be your professional wrinkle filler supplier, cheek filler supplier, nose filler supplier, chin filler supplier, body filler supplier, facial filler supplier and neck filler supplier.
4. Hyamax® is also a mesotherapy supplier, researching more hyaluronic acid based skin improvement products.
Catch the moment and get in touch with us for more information!